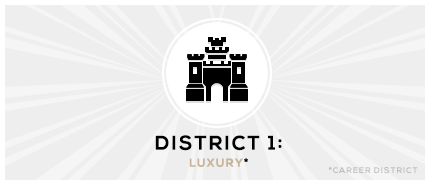 District 1 is one of the wealthiest districts of Panem. It's primary industy is manufacturing luxury items for the Capitol and as a result, has a generally favorable relationship with the Capitol. These luxuries include diamonds and other presious gems, such as emeralds and sapphires. Districts 1, 2 and 4 train their children ready to compete in the Hunger Games.
23,315 TOTAL POPULATION
1,693 CLAIMS IN TESSERAE
11 VICTORS
PERFUMER

CRATES ABSTRACT CONCEPTS AND MOODS WITH FRAGRANCE COMPOSITIONS

FURRIER (CLOTHIER)

DESIGNS, CREATES, MAINTAINS AND REPAIRS DUR GARMENTS

JEWLER

CUTS, POLISHES, OR SETS GEMSTONES OR MAKES REPAIRS OR SELLS JEWLERY

GOLDSMITH

METALWORKER WHO SPECIALIZES IN WORKING WITH GOLD AND OTHER PRESIOUS METALS

HAIR STYLIST

CUTS OR STYLES HAIR IN ORDER TO CHANGE OR MAINTAIN A PERSON'S IMAGE.

VINTNER (WINEMAKER)

HARVESTING, CRUSHING, FERMENATION, AGING, BLENDING AND BOTTLING GRAPES FOR WINE.
Community content is available under
CC-BY-SA
unless otherwise noted.