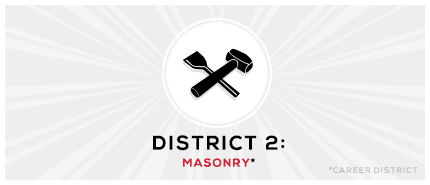 District 2's main industry is masonry. Its one of the largest and wealthiest Districts of Panem. It's where most Peacekeepers are recruited and trained and where weapons are manufactured, but it originally specialized only in mining and stone cutting. They also train their children ready to compete in the Hunger Games.
231,354 TOTAL POPULATION
1,937 CLAIMS IN TESSERAE
12 VICTORS

STONE/BRICKMASON

SHAPES PIECES OF ROCK WHICH IS NEEDED TO BUILD/REPAIR STONE STRUCTURES.

CONCRETE FINISHER

SMOOTHES AND FINISHES SURFACES OF POURED CONCRETE. SUCH AS FLOORS, SIDEWALKS, ROADS OR CURBS USING A VARIETY OF HAND AND POWER TOOLS.

BRICKLAYER

SETS AND REPAIRS BRICKS, CONCRETE BLOCKS, STONE AND OTHER MASONRY UNITS

BLACKSMITH

FORGES AND REPAIRS A VARIETY OF METAL ARTICLES. SUCH AS EDGED TOOLS, WEAPONS, ECT.

PLASTERER

APPLIES COATS OF PLASTER TO INTERIOR WALLS, CEILINGS, AND PARTITIONS OF BUILDINGS.

PEACEKEEPER

TASKED WITH MAINTAINING ORDER THROUGHOUT THE DISTRICTS (GOVERNMENT SYSTEM WITHIN DISTRICTS)

a

a
a
a
a
a

BRUTUS (1st)

48TH HUNGER GAMES

a

LYME (1st)

42nd HUNGER GAMES

ENOBARIA (1st)

62ND HUNGER GAMES

XENON (1st)

73RD HUNGER GAMES
Community content is available under
CC-BY-SA
unless otherwise noted.