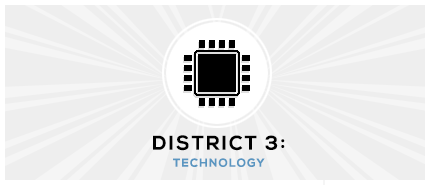 District 3 is one of the 12 Districts in Panem. Its main industry is technology. They specialize in televisions and computers. Most of its inhabitants work in factories and are very well adept with engineering.
195,354 TOTAL POPULATION
62,991 CLAIMS IN TESSERAE
5 VICTORS
TECH. SUPPORT

INSTALLING AND CONFIGURING COMPUTER HARDWARE SOFTWARE SYSTEMS, NETWORKS, ECT

INVENTOR

PRODUCES USERFUL ITEMS BY THE USE OF IMAGINATION OR OF INGENIOUS THINKING/EXPERIMENTS

ENGINEER

DESIGNS MECHANICAL & ELECTROMECHANICAL PRODUCTS & SYSTEMS BY TESTING SPECS AND METHODS

TESTER

TESTS & EVALUATES THE SOFTWARE APPLICATIONS AND SYSTEMS THAT MAKE COMPUTERS FUNCTION

TECHNICIAN

DESIGNS, DEVELOPS, TESTS, MANUFATURES, INSTALLS AND REPAIRS ELECRONIC EQUIPMENT

EXP PHYSICIST

CONDUCTS RESEARCH INTO PHYSICAL PHENOMENAL THEORIES ON THE BASIS OF OBSERVATION AND EXPERIMENTS

ASSEMBLY OPERATOR

HAVING REPONSIBILITY FOR ASSEMBLING AN ENTIRE PRODUCT COLLABORATIVELY WITHIN A GROUP
Community content is available under
CC-BY-SA
unless otherwise noted.